The Family & Team Behind Toronto's Top Florist
Ital Florist has been the leading flower shop in the Greater Toronto Area since 1976, when Eligio Paris first opened its doors. As the founder of Ital Florist, Eligio instilled the importance of being active in the community and connecting with neighbours, in both his team and his family. When words were not enough, Eligio promoted flowers as the perfect way to evoke his clients' messages and sentiments. After all, flowers have the uncanny ability to speak for us.
Today, Ital Florist is still owned and operated by the Paris family. Eligio's two eldest children, Italo Paris and Ester Paris Mauro oversee the shop's day-to-day operations with the same passion, integrity, ethics, and values passed down from Eligio himself. Family is certainly the cornerstone of Ital Florist and the people behind the scenes is what sets this shop apart from others in Toronto and beyond.
With a team of over 40 professionals, including the industry's most talented floral designers, customer service staff, certified event consultants, delivery personnel, and more, Ital Florist is sure to leave customers with a long-lasting, positive impression. Services can also be offered in a variety of languages including French, Italian, Spanish, Portuguese, Greek, and Polish, so customers of diverse backgrounds and cultures can enjoy the beauty of fresh flowers and gifts.
In addition to a stellar team, Ital Florist's own fleet of delivery vehicles and professional drivers are always ready to fulfill next-day-delivery needs for customers in and around the Greater Toronto Area. Ensuring the industry's top efficiency of service, presentability, state of the art tracking technology, and driver safety, online purchasing and flower delivery services are second to none at Ital Florist.
Whether you are looking to brighten up your celebration with the freshest flowers in Toronto, searching for the perfect gourmet gift basket designed with specialty items, locally hand-made candles, chocolates, wine, or balloons, Ital Florist is at your service. There is an endless selection of floral bouquets and arrangements for every occasion, and all are creatively designed with uniqueness and beauty that can be spotted from afar. After all, what is a wedding, birthday party, or festive gathering without flowers?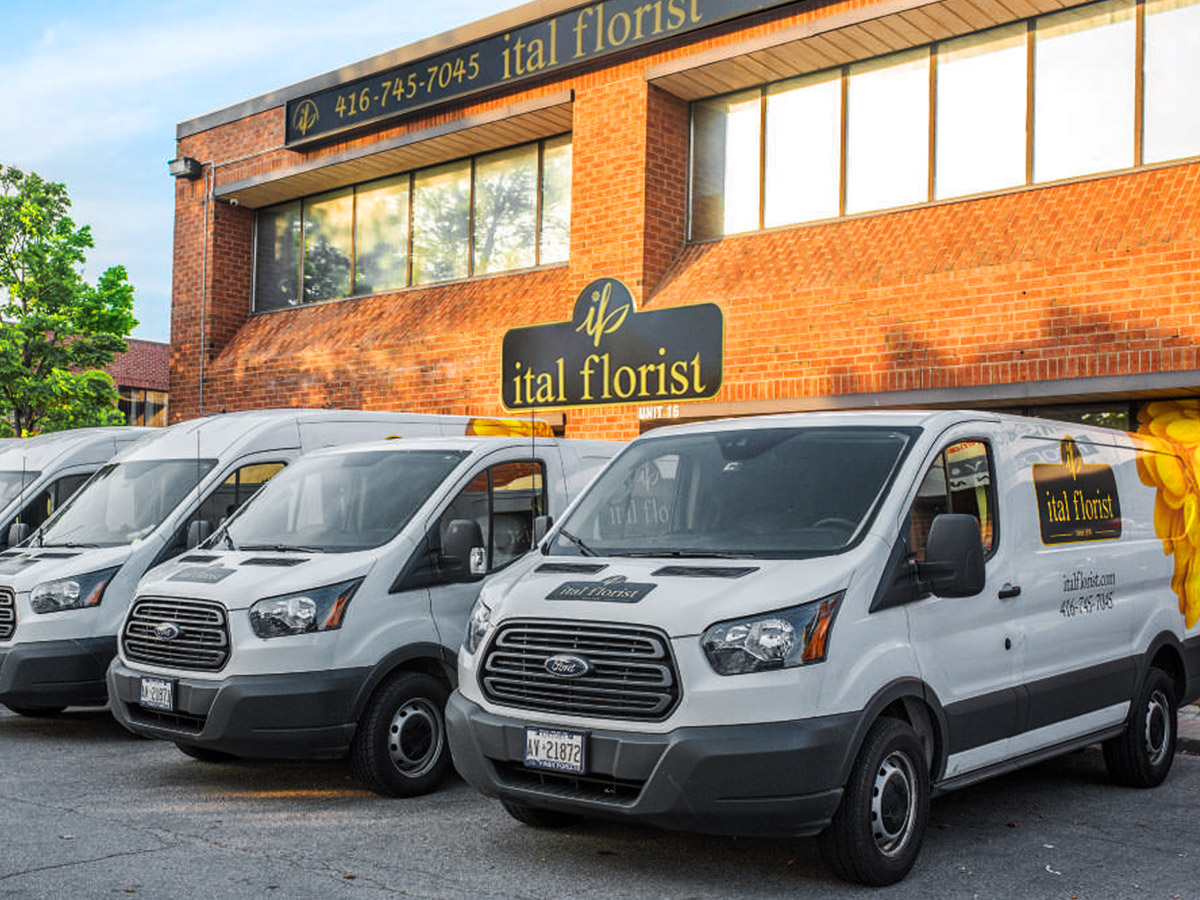 Business Hours
Mon - Fri: 9AM to 4:30PM
Saturday: 9AM to 4:30PM
Sunday: Closed
See Full Hours
"Our Family Promises"
While flowers enable us to celebrate all of life's moments in beautiful colour, and Ital Florist certainly designs some of the most unique, creative, memorable, and stunning floral arrangements with the freshest flowers, nothing can beat the authenticity behind these blooms. As an Italian Brand, Ital Florist never shies away from what makes them unique. The family who owns and runs the flower shop, their genuine care and concern for thousands of customers, and a family promise to provide the best of the best to anyone who comes across Ital Florist, has been the keys to success for over 45 years.
Eligio Paris built Ital Florist, with his wife Tonina always by his side, by shaking hands with neighbours, attending events, hosting dinner parties, passing out business cards, and getting to know the people in their community. As the business continued to thrive, the importance of community was passed down to the next generation of owners. Today, Italo Paris and Ester Paris Mauro make monetary contributions as well as give back by donating their favourite fresh flowers and their personal time to many charitable events and fundraisers.
Whenever possible, the family is out in the community participating and volunteering in something, such as coaching sports teams, organizing charity golf tournaments, joining in bike rides to raise thousands of dollars to fight cancer, funding health facilities and hospitals, or staying active in outdoor sporting and hunting clubs. Their spirit of generosity not only elevates their personal lives but it allows them to truly get to know their neighbours, bond with their community, and support those who have supported Ital Florist for decades.
As always, the family-owned and operated flower shop works extremely hard to personally answer phone calls, respond promptly to emails and to online reviews, and show up in person so customers can easily put names and voices to their faces. Being there for their community and customers is one of the most important parts of their family tradition and promise.
Meet the Team
Flower & Gift Services
We specialize in the following services:
Next Day Delivery
Nationwide Delivery
Contemporary & Traditional Arrangements
Seasonal Flowers & Arrangements
Anniversary / Romantic Arrangements
Sympathy Gifts
Silk Flower Arrangements
Mylar & Latex Balloons
Party & Event Decorations
Corporate Gifts
Home Decor
Weddings / Wedding Flowers
Sympathy and Funeral Flowers
Greeting Cards
European / Dish Gardens
Gift Baskets
Fruit Baskets
High-Style Floral Arrangements
Indoor & Outdoor Plants
Stuffed Animals
Prom & Dance Flowers
Hospital Flower Delivery
Funeral Home Delivery