Much like a hug, sending a heartfelt sympathy arrangement along with your condolences to the family or friends of someone who has passed can speak louder than most words. In a time of sadness, bereavement flowers can be a meaningful way to encourage uplifting thoughts to those grieving, simply because this act shows your dear love and support in the most beautiful way. Instead of mourning their passing with more melancholy feelings, we prefer to celebrate their life with some of their favourite flowers and blooms that also lift up loved ones. Here at Ital Florist, we know the importance of selecting the perfect type of arrangement filled with the best flowers. That's precisely why we have created this short guide to provide a helping hand if you ever find yourself in this position. 
Types of Sympathy Arrangements
Floral Baskets and Plants
Baskets of flowers and green plants with positive energy are popular items to send to those grieving. While it is appropriate for anyone to coordinate delivery of a favourite flower arrangement to the family's home or workplace, it is especially thoughtful if you have a closer relationship to the bereaved than to the one who passed. Sending a sympathy arrangement or basket to the funeral home is often more appropriate if you had a significant relationship with whom the celebration of life is honouring.
Floral Wreaths and Sprays
Close friends, family members, business colleagues, and organizations that wish to honour the deceased have the option of selecting floral wreaths and sprays to celebrate their life. These types of arrangements should be sent to the funeral home rather than to the home of the family, as they have a unique and special purpose. It is therefore a good idea to check in with the family if you are unsure if it is suitable to contribute to the funeral flowers displayed at the service.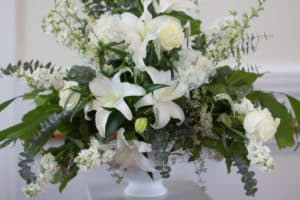 Floral Arrangements and Tributes
Often reserved for close family members and those with deeper relationships to the deceased, a tribute, or a special floral arrangement is one that represents their occupation, favourite hobby, passion, personality, or another significant part of their life. These special arrangements are also displayed at the funeral service or celebration of life in honour of the person who has passed.
Meaningful and Symbolic Bereavement Flowers
Once you have determined the type of sympathy arrangement or bereavement flowers you plan to send, you should then begin to select the contents of the floral piece. If you have the ability to choose their favourite blooms or include their favourite colours, then that is a fitting route to take. However, if you prefer your sympathy arrangement offers thoughtful expression and symbolism, consider the following blooms. 
Roses
Along with representing love, roses, especially crimson or deep red roses are gently connected to mourning. 
Chrysanthemums
In Europe, it is not uncommon to include chrysanthemums in sweet sympathy arrangements. Perhaps this is because chrysanthemums are a symbol of grief and mourning in Pacific Asian countries. 
Carnations
With a connection to youth and innocence, white carnations might be an appropriate choice for bereavement flowers, in addition to lovely red carnations and pink carnations. These two colours represent admiration, love, and remembrance. 
Lilies
Lilies offer a strong connection to Christianity, symbolize "peace" in Asian cultures, and mean "innocence" in many others. Lilies with gracefully elongated stems, called sword lilies, also represent moral strength, loyalty, and remembrance. 
Gladiolus
The significance of gladiolus lies in its meaning, which includes valuable qualities such as the strength of character, moral integrity, and sincerity. 
Bright Coloured Blooms
It may feel odd to choose bright and colourful blooms to design a sympathy arrangement with, however, these uplifting colours can be sincerely appreciated in a time of sadness and darkness. A sophisticated multi-coloured arrangement or a monochromatic bouquet of a favourite hue can represent the energy of the person who has passed. Remembering their high spirits and a positive attitude can also encourage a lift in the spirits of those in mourning as they reflect on happy memories and the joy they experienced together.  
Flowers help us convey the perfect message, especially when our words seem to fail us. Their healing powers are like no other, as Mother Nature has soaked them in wondrous symbolism, inspiring colours, nostalgic fragrances, and love. While acknowledging the all-around magnificence of sympathy arrangements and bereavement flowers, your friends and family here at Ital Florist are always ready to lend a hand.